Stephanie Weigel is an ultrarunner, gym owner, and personal trainer. She currently lives in Mt. Charleston, Nevada where she can focus her time on mountain running. Stephanie owns 2 gyms and has continued her career as a runner into the mountain & ultra distances. She has a variety of wins and top ten finishes under her belt and looks to continue that streak into the future. Prioritizing her life to suit her fitness goals has opened up a world of opportunity and she has sat down to tell us about her life, routine, and goals for 2019.
How did you get started in running? 
Stephanie: Well it all started on a farm in Kentucky where I grew up, running was one of the only things to do. I would spend so much time outdoors hiking that it eventually just evolved to me moving quicker and quicker until I was running my hikes. I wasn't aware of the sport I was just doing it because I found it fun. It wasn't until I got into college that I started getting into longer distance running. I was interning at a fitness facility and there was another girl who was way into marathon running. I was still running for fun but she started inviting me on the runs with her and that was my introduction to distance running. Being in Kentucky still, we had access to tons of trails so we were doing some training on those without knowing there was an actual sport dedicated to it. I definitely gravitated towards running on the trails much more than I did road running and as time went on I was on the trail more and more. Eventually when I moved to the west coast I discovered big mountains and knew that I was going to run to the top and that really appealed to me.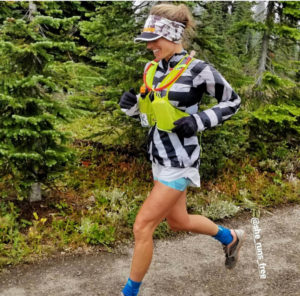 So at which point did you try out your first race and what was that experience like? 
Stephanie: My first initial race was the Kentucky Derby Marathon that I did while in college and I had no clue what I was doing. I'm pretty sure I had my friend drop me off in a cotton t-shirt, some gym shorts and tennis shoes from Walmart because at the time that was all I could afford. I just ran with all of these people and ended up taking third female and that was an eye opener to how fun it really was for me. I remember at the time thinking that I knew I was going to run another and so I did, I did well again and I thought "well maybe I should just keep doing well".
Did you run collegiality or in school or were you getting into this more on your own? 
Stephanie: I did not run collegiality. My earliest exposure to anything like that would have been cross country back in middle school. I was the only girl on the team but you have to remember my middle school had like 30 kids in the graduating class. Most of the races I didn't get to run because there weren't other girls at the other schools to run against so it was more just running for the fun of it. At that time I wasn't considering running at any type of competitive capacity. In college it was the best way for me to learn my way around the city because I felt more comfortable running than I did driving so it has served me in many ways.
All around how was your 2018 year?
Stephanie: It was really good! I started the season with the intention of running the U.S. Skyrunning Series. I think those races are in such beautiful places and I don't want to say I am more comfortable with the setting, but it's what I do, I live in the mountains, train in the mountains so it's way more natural for me to do races like that. We opened our second gym location in Big Bear, California. Opening that second location and working on that definitely changed my plans for racing quite a bit. Things come up that you just don't expect so I was unable to travel and do all of the Skyrunning races. However I did a few of the Skyrunning races and had committed to the TranSelkirks stage race in Canada. I had done Transrockies twice in the past so this was next on my list. I knew I wanted to do it and had committed long before we had open the gym. With the changes to my schedule I put most of my effort towards TransSelkirks and made that my focus race of the year. I had huge expectations to the beauty of this race but it absolutely exceeded all of them. I put a ton of training efforts in and was able to come away with the win and had a really great time along the way. As much as I wanted to keep racing after that there wasn't a ton of Sky races left in the season so I basically ended my season after TransSelkirks. I don't want to run a race simply to run a race; I want to be doing the ones I am super excited about.
Let's look at 2019, after a year of growth what do you have planned for this upcoming year? 
Stephanie: So I met quite a few people at TransSelkirks who were all talking about Translpine and of course I've known about it and knew at some point I would want to do it, but that will be my focus race for the year. I love the format of stage racing and this race would be considered the next tier of race from my previous race so it makes sense to pursue this. I have it on my agenda to do a couple of the Skyrunning races and use them as a really fun training weekend with the goal being Transalpine. I've looked up a couple races where they have a run up the mountain on Saturday, a 50k around the mountain on Sunday and I would like to do that on the weekends that I race so I can really enjoy it. My schedule makes it difficult to commit to the entire Skyrunning series so this way I get to maximize my time on and around the mountains. But one of these summers I will do all of the races in that series, I won't forget that goal.
How do you find motivation to prioritize your fitness and create a lifestyle from it?
Stephanie: Your body adapts to whatever you do to it. When people come to me regarding nutrition or health in general It's not about running a certain route or eating a certain food, it's about consistency. Nothing is easy at first but the more you do it to your body the more the habit forms. If you always eat bad food then your body is going to crave bad food and the opposite is also true. With running you have to just do it a little every day until your body naturally craves it and it feels as natural as anything else you do in the day. During the off season not that much changes for me, I still work out twice a day because I love it so much and it would feel weird if I stopped. At first it's going to hurt, and there are days you won't want to make time for it but when you give into those excuses then your consistency isn't there and of course running is going to feel hard.
If there were one thing that the whole world could know about you, what would that be? 
Stephanie: I think in regards to running it's important to know that it isn't that serious.. it's just running and it's supposed to be fun before anything else. I think people can get super into results and podcasts and all of the information that is out and lose what running is supposed to be. The fundamental of running should be something you love to do because it's fun and you are passionate about it. If you told me I could never race again that wouldn't change how many miles I put in on a weekly basis. Let running be the thing that feels good to you.