Inspired by Athletes
Magda XT Race Vest
Loaded with Features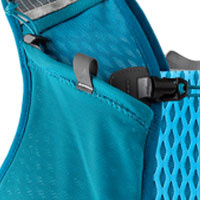 Stretchy Mesh Pocket
Large enough to hold a large cell phone.
MAXO2 System
Promotes comfortable and natural breathing.
Easy Access Waist Belt Pockets
Added stability with access to essentials on the go.
Compression Straps
Added stability for the main compartment.
Multiple Compartments
Huge 20 liter capacity.
XT Mesh
Keeps you cool while handling extreme conditions.
Magdalena Boulet
Elite Immortal
Magdalena Boulet, also known as Magda is a runner from Oakland, California. She was born in Poland but became a citizen of the United States on September 11, 2001. Magda finished second place at the 2008 U.S. Olympic Team Trials – Women's Marathon. Magda has competed and done well in many races over her career, one very pivotal race was her debut 100-mile race Western States 100-Mile Endurance Run in 2015 which she won. Magda is a highly focused, goal driven endurance athlete with a background in swimming which ultimately proved to be very helpful throughout her career in running.
Achievements
U.S. Olympian
33rd Marathon Des Sables Winner